Auto Glass Repair in Bend, OR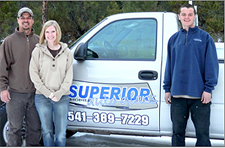 Auto glass can break due to many reasons, but one thing is for sure, it is always seems to be a hassle to get it fixed. At Superior Auto Glass we strive to make auto glass repair in Bend a breeze by offering free estimates and we will come to you! No dropping your car off and trying to find a ride to work! We also work with insurance companies to help keep your costs down. When you need fast and easy windshield replacement, rock chip repair or auto glass repair in Bend, Prineville, Sisters, La Pine, Redmond or the surrounding area schedule an appointment with Superior Auto Glass by calling (541) 593-3533 today!
Auto Accident Glass Repair
Many auto accidents result in at least some broken windows. Our expert staff can professionally replace any glass on your import or domestic car, truck or SUV, as well as RVs and heavy duty trucks.
Back Glass Replacement
If the rear window of your vehicle needs to be repaired don't hesitate calling us to come to your home or workplace and get that taken care of. We work on any vehicle, including fleet vehicles, personal cars and trucks, collector cars and almost anything else with wheels and glass!
Door Window Glass Repair
If your door glass has cracked or shattered due to vandalism, an accident or the neighbor's baseball, don't delay in getting it fixed. Broken glass makes you an easy target for car prowlers and car thieves. Call Superior Auto Glass in Bend today!
Truck Glass Repair
Sliding windows on the rear of truck cabs are often the windows people try to pry open if they locked their keys in the car. They may get their keys out, but they're likely stuck with a broken back window. If your truck needs its back window fixed have us come to you to replace it today!

If you find yourself with a broken, cracked or shattered windshield don't delay in getting it fixed. Call the experts who will make your Oregon auto glass replacement experience hassle free, affordable and fast. Call Superior Auto Glass in Bend at (541) 593-3533 to schedule an appointment!